As NS Advertising, we know the importance and follow the use of printed organizers and notebooks in business life, in addition to all digital opportunities of technology. We know the value that an elegantly designed organizer, or a notebook that we take everywhere we go for the brand recognition of your company. This is because we make permanent and sustainable designs, and take your brand to the future.
ORGANIZER AND NOTEBOOK DESIGN PROCESSES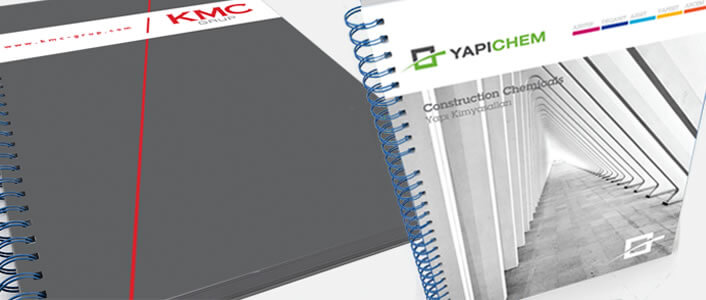 SECTORAL ANALYSIS
We investigate your target audience for you, and determine which of the promotional products such as organizers, notebooks and notepads can be more efficient for you. While we determine different design strategies for brands that work at desk or intensive meeting plans, we identify different strategies for brands that work by constantly taking notes. And we believe that much different strategies should be followed for brands that serve in drawing and industrial fields.
ORGANIZER AND NOTEBOOK DESIGN
The differences in the intended use of organizers and notebooks affect the designs most directly. While there are daily, weekly and monthly calendars in organizers, the large use of the note area is intended in notebooks instead of this area. And the most important part in organizer and notebook designs is your advertisement pages that account for the products and services of your company or brand, and repeat at certain page intervals.
PREPARATION OF THE CONTENT
If the content that you want to include in the internal page designs of the notebooks and organizers is ready, we make our final checks and present our opinions. If the text content to be used is not ready, we perform an additional work, and we can create the texts that will be used together with the design.
PRINTING PREPARATION
Lastly, we perform the internal page design of notebooks and agendas prepared in a suitable manner for printing, and share its blueprint with you for control. We move to the press printing process of our works upon your approval.
ORGANIZER AND NOTEBOOK DESIGN PRICES
We can offer our best price for your company by detailing our pricing for the organizer or notebook designs of your company or brand. You can contact our customer representative to get perfect service about our organizer or notebook design works. Be sure that we will get back to you within one working day at the latest.
Any Question ?
Nullam ut consectetur dolor. Sed sit amet iaculis nisi. Mauris ridiculus elementum non felis etewe blandit.
Ask Now